We are often asked "Do you do grinds?" or "Are you a grinds school?"
Our answer is always "No – we are much better!"
We don't just teach the curriculum. We teach concepts. We don't teach from the same school materials the student has already found difficult to understand. The students work through each topic area they need to focus on, until they have caught up to their year level.
We can also extend further if the challenge is insufficient in their school lessons.
Our thorough, structured and successful approach allows each student to understand foundational concepts and apply that understanding to their future studies.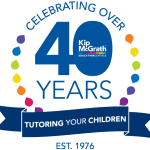 End of Year Exam preparation
Secondary school preparation